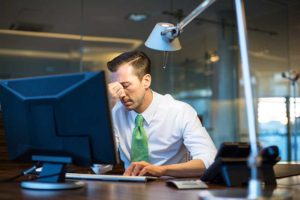 by Wayne J. Jung
Wasp Barcode Technologies recently released their annual State of Small Business Report and not surprisingly more than half of the 1,100 small businesses surveyed indicated that hiring new employees was the top challenge facing them in 2017.
Less than a third of those same respondents also listed hiring new employees as a strategy for growing revenue during the same period.
The high cost of sourcing and acquiring new employees certainly plays a role, as does training, motivation and retention. Just like an employee tends to avoid certain tasks that they don't enjoy, so too do many employers.
Just like in sports, it's never a good idea for a business to avoid upgrading the lineup with talented professionals, and that's especially true in a competitive marketplace.
According to the U.S. Bureau of Labor Statistics, September's 4.2% unemployment rate represented the lowest number on record in more than ten years. And while that is good news for jobseekers, it's bad news for employers.
A low unemployment rate means that while there is more competition for good jobs, companies are fighting against others for top-tier professionals.
It is especially tough for small businesses who cannot afford to outsource their recruitment efforts, because the time and expense to attract the right people can be prohibitive.
And we haven't even begun to talk about the costs associated with hiring the wrong person for the job!
According to the U.S. Department of Labor, the cost of a bad hire can be as high as 30% of the employee's first-year income. That can be a substantial hit for any company, made even more impactful when the same mistakes are repeated over and over.
If recruiting, interviewing, training and retaining that new employee is stressful, we can only imagine how hard it is to justify time and expense in the applicant vetting process.
That's why at SELECTiON.COM® we go to great lengths to not only uncomplicate, but to provide a cost-effective solution to your hiring methodology.
With systems that greatly reduce time, eliminate manual paper filing, improve efficiency and are easy to use, SELECTiON.COM® offers customers of all sizes and in all industries a solution to their applicant vetting process.
Best of all, our solutions are priced to fit any budget and can be customized to your specific needs.
It really is as simple as you select the candidate and we'll verify their background. That's why we like to say, "Your SELECTiON®, Verified!"
At SELECTiON.COM® our proprietary Search America™ report is the largest National Criminal Database in the United States, with One Billion records from over 1,500 sources. It's a multi-jurisdictional search of criminal record databases and Government Watch lists that includes correction records and Sex Offender registries from all 50 states. With this compiled database, we can help to keep your costs low and your coverage level high while providing a quality report.
Contact us today to see how SELECTiON.COM® can take your employment background check process to the next level.
NOTE: The contents of this article are not legal advice for your particular situation. You should neither act nor rely upon anything stated in this article without first consulting your own legal counsel.