BACKGROUND SCREENING AGENCY ACCREDITATION PROGRAM (BSAAP)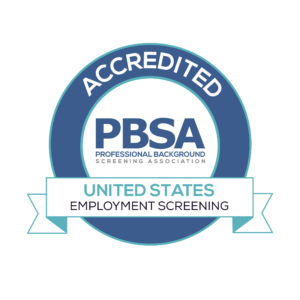 SELECTiON.COM® is a proud member of the Professional Background Screening Associates (PBSA). PBSA was established to promote a high level of ethics and performance standards for the background check industry. This association currently represents over 880 member companies engaged in employment and tenant background screening across the United States.
PBSA Member companies are Consumer Reporting Agencies (CRAs) defined under the Fair Credit Reporting Act (FCRA) and these agencies are regulated by both the Federal Trade Commission (FTC) and Consumer Financial Protection Bureau (CFPB).
The PBSA offers the Background Screening Agency Accreditation Program (BSAAP), which purpose is to achieve excellence through high professional standards, the adoption of best practices, awareness of legal compliance, and development of standards that protect clients and consumers.
SELECTION.COM® is part of this prestigious program as well, and achieving this certification was not an easy task.
To become an accredited firm, SELECTiON.COM® had to demonstrate initial and ongoing compliance with the accreditation standards as prepared by the Background Screening Credentialing Council (BSCC). Compliance was demonstrated through rigorous review and on-site audits, which were completed by an independent third-party auditor. SELECTION.COM® had to document each of the policies and processes required in each of the areas within the standard and demonstrate visible compliance with their policies to the auditor. The program also required SELECTiON.COM® to commit to uphold and deliver the highest level of industry standards in the following critical areas: Information Security, Legal and Compliance, Client Education, Researcher and Data Standards, Verification Services Standards and Business Practices.
SELECTiON.COM® has satisfactorily completed all detailed processes and requirements demanded by PBSA to be accredited in the BSAAP program and fully complies with those processes to maintain this important certification. This distinction for SELECTiON.COM® is a widely recognized seal of approval that provides national recognition and at the same time achieves excellence through high professional standards with accountability that results in continued institutional improvement.
Consumer Reporting Agencies like SELECTiON.COM® help provide the country and its citizens with a safer environment in which to live, work and play, and the common goal for CRAs and NAPBS is to continue working together to identify best practices and promote the highest ethical standards.
SELECTiON.COM® is a nationwide background screening provider. We have been in the background check industry since 1991, providing comprehensive and customizable screening solutions to help clients make smart hiring decisions. SELECTiON.COM® has the products and services for businesses of all sizes.
TOP SOLUTIONS
Identity Verification - Our unique Social Security Trace and Validation option will verify your applicant based on name, age, and SSN, building a complete residency history.
County Criminal Search - The SELECTiON.COM® courthouse research network covers all 3,142 counties in the United States.
National Criminal Database - Our proprietary Search America® repository is the largest criminal database in the industry with more than ONE-BILLION records.
SELECTiON.COM® also offers Federal Criminal Reports, Motor Vehicle Reports, Prior Employment and Education Verifications, Drug Screening, Fingerprinting, License Verification, Character References, and much more!
CONTACT US today for a customized report solution!