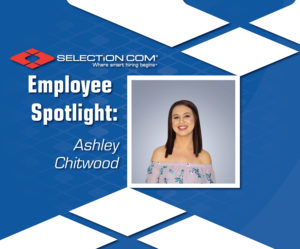 Ashley Chitwood has been a valued member of SELECTiON.COM® since 2016. Here's a little more about her.
Favorite part of working at SELECTiON.COM®
How everyone here feels like family!
Favorite Hobby
Shopping!
Favorite Quote
"Sometimes things fall apart so that better things can fall together."
Favorite Food
Pasta!
Favorite Sports Team
Cincinnati Reds!
Fun Fact
I am obsessed with the show Friends!