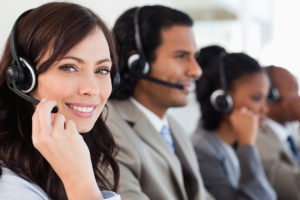 Companies are not all created equal, and for that matter, neither is customer service.
However, when it comes to the customers themselves, most will agree on one thing: customer service is the top reason that they continue doing business with any company after the initial sale.
On a level playing field, customers return to businesses that make them feel valued.
In most cases, that begins with the very first phone call.
Think about it.
The last time you called a business concerning a purchase that you made or were considering, how did that call go? Did a computerized answering system make you feel as though finding answers to your questions was not going to be easy? Were you transferred, put on hold, asked to call back, or given bad information?
Did you verbally sigh at any point during the conversation, or call attempt?
Sales and customer service calls should always be answered by a person. At worst, an automated phone system should provide the caller with the most direct route for reaching someone who can assist in addressing the customer's needs.
At SELECTiON.COM® we make each call a priority. We recognize how important it is to listen carefully, to not only more fully understand the needs of our clients, but to demonstrate for our customers our overwhelming desire to help.
Our customer service team consistently averages 94% or better in client satisfaction ratings.
Our team of highly qualified and knowledgeable associates is available from 8am to 8pm, Monday through Friday, via phone or online chat. Trained to listen carefully, our staff makes each call or chat a priority.
"I highly recommend SELECTiON.COM®! As a small recruiting company, I want to ensure I thoroughly understand what a background check can and cannot do. I have asked multiple questions over the years to ensure a complete understanding. The folks have gone out of their way to answer questions. In the rare instance they didn't know the answer, they conferenced in their in-house attorney. Now that is excellent customer service! I use SELECTiON.COM® because of their great service."
– Renee Fulton, President, Talis Group Inc.
Our approach to handling inbound calls is designed to provide service that exceeds our customer's expectations. That's a big part of the reason why we have many customers who have been with SELECTiON.COM® since day one, going on nearly 27 years.
How can we help you to become a raving fan?