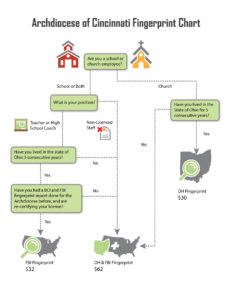 If you are being fingerprinted for the Archdiocese, the cost is as follows:
BCI – $30.00
FBI – $32.00
Both BCI and FBI- $62.00
If you are not sure which fingerprint reports you need, see our fingerprint calculator, created specifically for Archdiocese employees. Note: this calculator is meant only as a helpful tool. Certain locations may have different fingerprint procedures.
Please make sure that you bring your Driver's License, Passport, or a State Issued ID with you. Without this, you cannot be fingerprinted.
You will also be required to fill out a release of information form. Forms are available on-site or you can download one here:
Archdiocese of Cincinnati Fingerprint Release Form
We do not recommend printing the release form too far ahead of your fingerprint session. You will be responsible for filling out a new form if the version you bring is out-of-date.
In-house Fingerprint services are available at the following location. Customer Support is available 8am-8pm, Monday-Friday.
PAYMENT IS REQUIRED AT THE TIME OF SERVICE: CASH OR CHECK ONLY
At this time, we do not accept credit cards.
Walk-Ins: Monday- Friday: 8AM – 4:45PM
155 Tri County Pkwy, Suite 115
Cincinnati, OH 45246
513-522-8764
The fingerprint office is in the corner immediately to the left when you first walk in the front door.