Most HR Professionals have experienced losing an "A" candidate due to delays in the hiring process.
A recent study published by Management Recruiters International (MRI) showed that "47% of declined offers in 2015 were due to candidates accepting other jobs" between application and offer. A statistic that was "up 10% from the first half of the year."
As is most often the case, an applicant with one company is usually also actively seeking employment with other companies concurrently.
For that reason alone, timeliness is a big part of the hiring process.
Establishing a process that gathers the required information and insights on potential applicants is key to success in Human Resources, as it can drastically reduce the amount of time between application, mutual interest, offer and acceptance.
Here are a few suggestions in review of your process:
1. Job Posting – Promote the benefits of the position and organization. Clearly define requirements and job duties.With well-developed job postings, you can decrease the time spent with unqualified candidates.
Additionally, track which postings give you the best results and replicate those for future openings.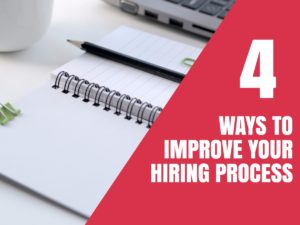 2. Application – An application that gathers key information and eliminates extraneous details can save time and improve the number of qualified applicants you receive.
Is it necessary to gather a lifetime of work experience or are you more interested in experience related to the position? Perhaps a full work history can be gathered a later time.
DO have all applicants complete a release form for a background check along with the application.  You don't have to run a background check on every release form received, but you also don't want to have to wait for release once you find that highly-qualified candidate
3. Interview/Assessment – If your application gathers the right information and you identify a qualified applicant, you want to move quickly to schedule interviews or get assessments.
We know there are marginal candidates that you can wait to hear from but the "A" candidates are looking for a positive response.  Get to know them with follow-up questions, assessments or interviews right away.
4. Background Check/Offer – Most successful companies make a job offer contingent on background check results or they run a background check prior to making an offer. Background checks are very important to your hiring strategy and the expediency of the process can dramatically shorten or lengthen the hiring window.SELECTiON.COM® will help sharpen your hiring strategy by providing quicker turn-around times on all your background check needs.
Developing, and consistently reviewing, a successful hiring process will help your company land more of the best candidates…BEFORE they accept an offer from your competition!
Contact SELECTiON.COM® to review your hiring process and explore the value that we can offer your organization.