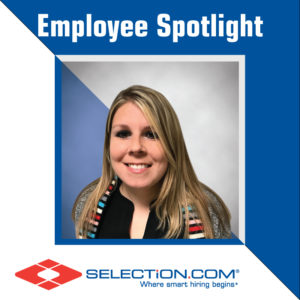 Cassie Miller has been a valued member of our Operations team since 2005. Here's a little more about her.
Favorite part of working at SELECTiON.COM®
My favorite part of SELECTiON.COM® is the Customer Service that we provide.
Favorite Hobby
Going To Football Games and Shopping
Favorite Quote
"If you fall behind, run faster. Never give up, never surrender, and rise up against the odds." -Jesse Jackson-
Favorite Food
Chips and Salsa
Favorite Sports Team
Cincinnati Bengals
Fun Fact
I can do voice imitations of the Ewoks from Star Wars.
Founded in 1991, SELECTiON.COM® is one of the Nation's leading providers of pre-employment background screening services. We offer the largest network of in-house researchers, the fastest turnaround on criminal background checks and drug screening, and unsurpassed customer service. Our web application, FASTRAX Select™, allows employers to verify an applicant's background check information quickly and accurately from the convenience of a personal computer. Average turnaround time on criminal background searches is 2 business days. Thousands of employers nationwide rely on SELECTiON.COM® to help them make smart hiring decisions.